Order Status Icons and What They Mean
The Fulfillment Control Panel (FCP) allows you to see the status of your orders via your Dashboard. Once you have located the order(s) you are wanting to review, you will see an icon to the right of that order that indicates the current status. There are five (5) different statuses, illustrated by box icons, explained below.
From the Orders tab, select Search/Edit Orders, to locate the order(s) and subsequent status. Search using the filter criteria desired (below shows the "Last Name" filter being used).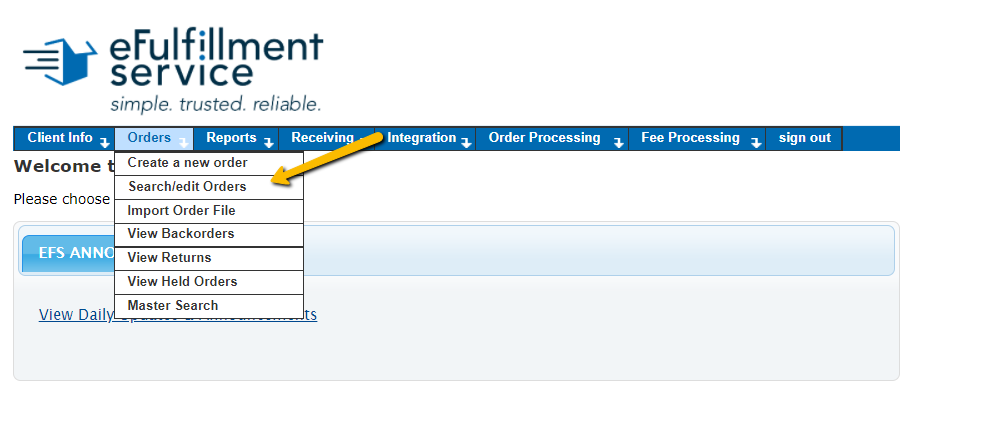 1. Locate the Order Status Icon to the Right of the Order.
Once you have determined you have located the correct order, you will see the box icon under the Status column showing the current status of the order in our system.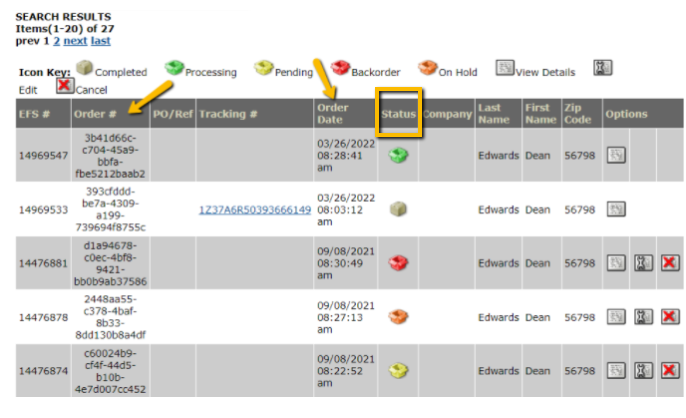 2. Reviewing the Five (5) Order Statuses

Completed Status

(Brown/Closed Box)

This order has shipped and closed out in our system. There will be a tracking number per the above screenshot, with a link to the carrier's site for shipping status, once the package has been scanned in by the shipping carrier.
Processing Status

(Green/Open Box)

This order has been batched and printed and is out on the warehouse floor either being picked, packed, or on its way to the ship station. You cannot edit or cancel the order any longer on your own; you must contact Customer Service, and depending on how far along the order is in the processing stage, they may or may not be able to complete your request.
Pending

(Yellow/Open Box)

This order is in the system ONLY, meaning it has not been batched or printed. This is the only time you can edit, cancel, or put an order On Hold, without any assistance.
Backorder

(Red/Open Box)

One or more items in the order are not in stock. It will remain in this status until the applicable inventory items are added into stock. For information on how to allow the "in stock" items to ship before that, see the article "How Do I Ship the Items In-Stock on a Backorder?".
On Hold

(Orange/Open Box)

The order is currently in a "HOLD" status. This "On Hold" status can be done by the client only when it is still in a "Pending" status. EFS staff might have put the order "On Hold", due to a special request you may have made that needs to be conveyed to Operations, for example, before the order prints. If you created a support ticket for a special request, they will inform you of the reason via that support ticket. If you are still not sure why, however, you will need to inquire via that support ticket or create a new one.